How to Climb Anything (even out of bed!)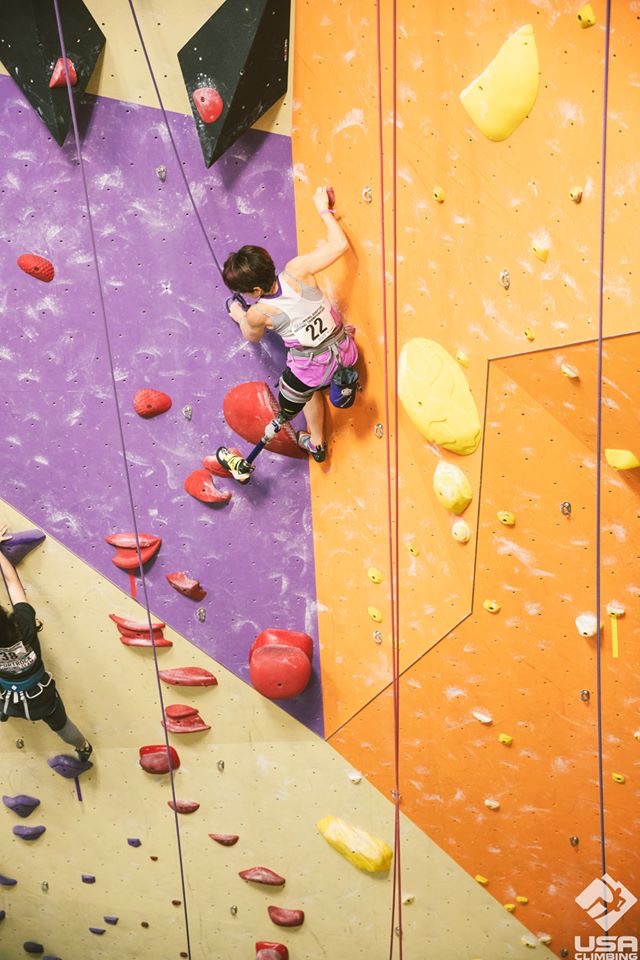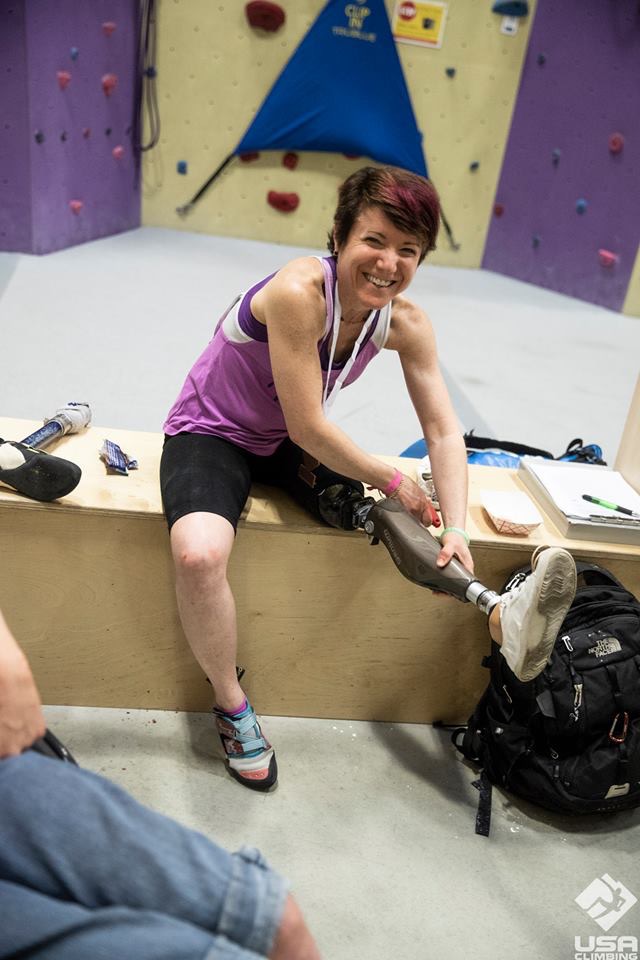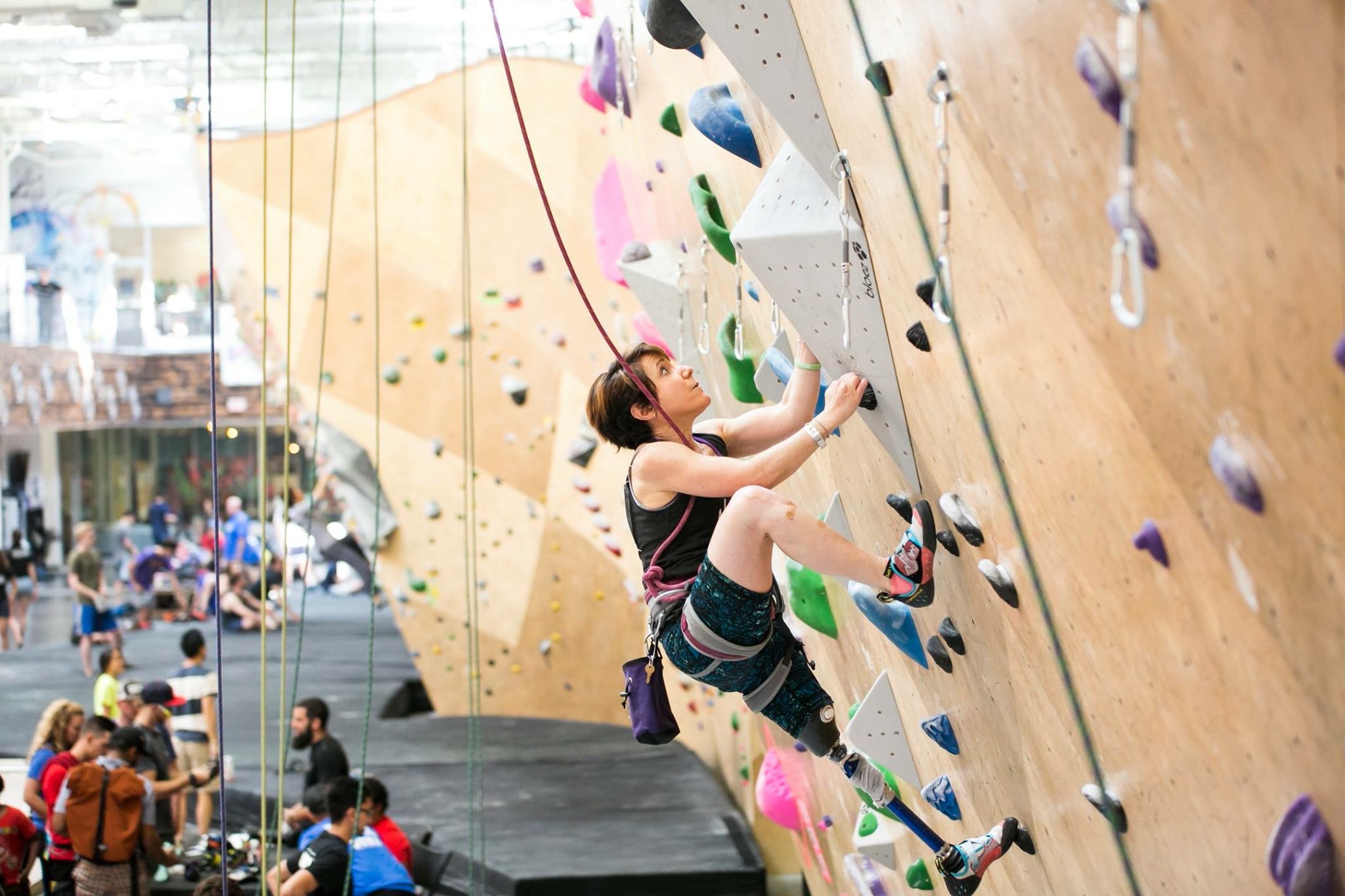 At the foot of the rock wall, I look down at my own feet. Right human. Left prosthetic.
I check my carabiners. Curl my fingers around the start holds. Glance back at the belayer.
"Climbing!" I call.
"Climb on!" he responds.
The USA Climbing Adaptive National Championship is nearly finished. We are 82 adaptive climbers—athletes with amputations, neurological or orthopedic conditions, visual impairments, and other disabilities. With ten minutes left in the competition, most of us still cling to the walls for one last climb, one last scramble upward in search of a higher score. Our brains want to reach the top. Our bodies tremble with exhaustion.
When it's all over, I earn a spot on the podium: third place in my category, female lower extremity amputees. Along with it comes an invitation to join the USA Paraclimbing Team at the 2018 World Championships in Austria!
I discovered rock climbing the summer after my accident. Nine months earlier, in November 2010, I was hit by a truck while riding my bicycle to work. My left leg was crushed and had to be amputated above the knee. I suffered broken ribs and a fractured pelvis. I developed compartment syndrome in my abdomen which required several major abdominal surgeries. The good news? I was wearing a helmet and miraculously sustained no head injury.
I would always have a "visible" disability, but I was strong—and fortunate. I had the best medical team, the best rehabilitation therapists, and the best prosthetic care. I learned to walk with a high-tech prosthetic leg. On the outside, at least, I recovered.
My leg was a constant source of discomfort, but ironically, what was happening on the inside of my body was more crippling. From all those abdominal surgeries, a web of scar tissue had woven itself around my intestines, causing severe pain. Some disabilities, like amputation, fit neatly into categories. Unpredictable, debilitating abdominal pain is not one of them. That is my "invisible" disability.
Less than 48 hours after the climbing competition, that pain keeps me up all night. It feels as if someone has knotted a climbing rope around my stomach, a cruel contrast to my latest victory. The pain is primal. Excruciating. It yanks away my pride and hope and momentum, replacing them with anxiety, uncertainty, anger, and fear. All the confidence of my achievement disintegrates in the face of that pain. How can I go to Austria? How can I go to work tomorrow? How can I even get out of bed?
These two back to back events–the thrill of a climbing competition and the defeat of abdominal pain—are like a Cliff's Notes version of my life since the accident. In 8 years, a pattern has emerged. Pain. Relief. Pain. Relief. Repeat as directed. I still wake up each morning unsure what the day will bring.
Living with pain, or the possibility of pain, is an uphill battle. It makes me wonder, could climbing strategies help us face other health challenges? When pain brings me down, there a few moves that get me back on my feet. Maybe they'll give you a boost too.
Call it self-help. Call it a pep-talk. Call it notes from an adaptive climber. I'll call it…
HOW TO CLIMB ANYTHING – even out of bed!
1. Get the start. The start of a climbing route is the first move on the wall. I grapple with starts a lot, especially if they require a tricky left foot. I stall. I hesitate. I overthink. Yet here's the thing: getting the start can be a real confidence booster. So how does this technique help us handle pain? Do one small thing—one small action that relieves one small bit of suffering for one small moment. That's it. That's the start. A heating pad. An ice pack. A show on Netflix. An episode of Radiolab. A cup of tea. Set the smallest goal you can, and go for it. There's always a first step. And once we take it, we've started on our way.
2. Ask for beta. Hang out with rock climbers, and you're likely to hear the call, "Can I get some beta?" For climbers, beta means information or strategy. It's how we problem-solve on the wall. So how does beta translate into managing pain? People can't help us if they don't know we're struggling. So reach out. Ask for beta. Seek new specialists. Look into alternative therapies. Find a support group or a Facebook page. Talk to a life coach, or therapist, or friend. Beta from the right people can help us reach new heights.
3. Go off course. When I get stuck on a climb, I cheat. I admit it. I stray onto a neighboring part of the rock wall to avoid the problem area. Why? To cut myself some slack. Pain requires compassion. It's a constant struggle. It takes a toll on our energy—not just physically, but mentally, emotionally, and spiritually. So change up your routine. Go off the beaten path. Do something different. Be flexible with yourself. Start an hour earlier or later. Reorganize your to-do list. Try a new recipe. Drive instead of walk. Inject some novelty into your life, and chart a path that's yours alone.
4. Save your power moves. On the rock wall, it takes effort to get my prosthetic leg into position, so my default move is to ignore that leg entirely. Instead I outstretch my arms, grab the highest hold I can reach, and do a huge pull-up. It's an awesome power move, but if I use it too often, it drains my power. With climbing, as with chronic pain or illness, pacing is everything. On days when my prosthesis isn't fitting correctly, or food isn't digesting, or I'm just worn out by the effort of it all, I mix in a few moments of downtime. Read a book. Eat lunch. Adjust my leg. Breathe. If I can't, I prioritize and cut-back. Energy is precious. If we pack our day with power moves, we'll never finish.
Of course, all these tips assume you've already gotten out of bed. So here's the crux…
5. Climb on. The magic words of rock climbing. Climb on means you're safely tied in, you're on belay, and you can start your journey up the wall. Climb on is a launch pad. A kick in the pants. Permission, and pressure, to go for it. Stuck in bed? Push back the covers. Take a shower. Get dressed. Yes, it hurts. Yes, it's hard. No, it doesn't fix anything. I get it. With uncertainty and pain, there's no easy solution. We can't really climb everything. Nobody can. But sometimes a dose of confidence—and challenge—is just what the doctor ordered.
We have to keep climbing. Maybe I will go to Austria after all.
Rebecca Levenberg is a teacher, climber, writer, and speaker living in Philadelphia. She supports hospital patients and provides peer mentoring for new amputees. Follow Rebecca's journey at www.my-1000-miles.blogspot.com